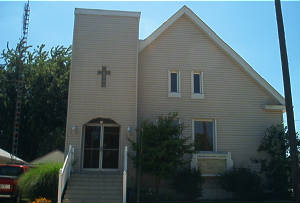 Jesus Christ is the same yesterday, today, and forever.
(Hebrews 13:8)
Sunday School - 9:30 a.m.
Sunday Morning Worship Service - 10:45 a.m.
Sunday Evening Service - 6:00 p.m.

Wednesday Evening Service - 7:00 p.m.

Everyone Welcome - Come and Praise the Lord

YOU ARE WELCOME AT ANY OR ALL OF OUR SERVICES
The Foursquare Church exists to glorify God and advance His kingdom. Jesus Christ's command is to preach the gospel and make disciples of all nations (Mark 16:15; Matthew 28:19). Therefore, we are "Dedicated unto the cause of inter-denominational and worldwide evangelism." These words express our spirit and our focus. Our call is to preach Jesus Christ, God's Son, as the Savior, Healer, Baptizer with the Holy Spirit and coming King.